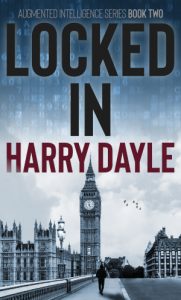 Mysterious radiation readings.
Unexplained sickness and death.
Can a technologically augmented ex-detective work out what's going on…and avert a catastrophe?
Ex-policeman Xavier Baxter is getting to grips with the awesome power installed in his head.
When worrying radiation readings appear across the South East of England, Xavier takes it upon himself to investigate.
Meanwhile, back at the Attic, one of the team is about to derail everything the secretive organisation has been working on.
Locked In is the latest techno-thriller from Harry Dayle, and the second in the Augmented Intelligence series set in the mysterious MI16 government agency.
Locked In is priced £2.99¹ and is available from all good bookshops, including:
Amazon :: Kobo :: Apple Books :: Google Play
¹ Electronic edition RRP £2.99. Print edition RRP £11.99.  International prices may vary due to local taxes.