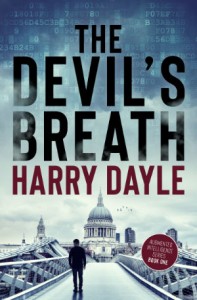 Not just a new book, but the start of an exciting new series. The Devil's Breath is the first in my new AI: Augmented Intelligence series. It introduces a new hero, and a new cast of characters in a new setting — London.
This series has been bouncing around in my mind for a long time, eager to claw its way out and onto the page. So even though there's still another Thaddeus book still to come, I had to get started on AI. The result is something a little different to what I've written before.
That's because The Devil's Breath is a bit more speculative in nature. I mean, obviously Noah's Ark is speculative fiction given the event that kicks of the series. The Devil's Breath is different though because it takes existing technology and stretches it just a tiny bit. I hesitate to call it sci-fi, because the book takes place very much in our world. And it's not really about the technology, it's about the people (aren't all books?)
Anyway, rather than me blather on, why not head over and read the blurb, and then even better, read the book!
---