As Captain Jake Noah and his team struggle to unravel and understand recent events, a new hope for the future emerges. Now Jake must lead his community of survivors on their longest journey yet. But a shocking revelation from his past threatens to undermine his authority, and throws his life into disarray.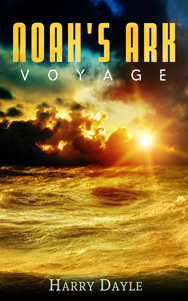 They say every cloud has a silver lining. The survivors aboard cruise ship Spirit of Arcadia have passed through many clouds. Have they finally found something to make their struggle worthwhile? Captain Jake Noah thinks so. His little fleet is heading halfway around the world in search of a new home. Somewhere safe where they can start afresh.
With criminal elements in their midst, personal problems to deal with, and perilous waters to navigate, it's a journey that is fraught with danger and difficulty. Will their efforts bear fruit at last? Or will their voyage be in vain?
Voyage is the fourth novel in the thrilling Noah's Ark series.
Noah's Ark: Voyage is available now, priced just $3.99* from all good bookstores, including:
Amazon.com :: Amazon UK :: Kobo :: B&N :: Apple iBookstore :: Google Play
*eBook Edition. International prices may vary due to local taxes.