In Greece's capital city, men are disappearing from migrant camps, and the police don't seem to care. But someone else does.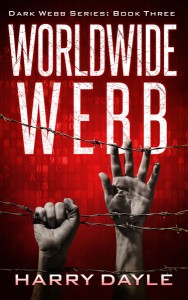 Reclusive former website designer Thaddeus Webb, on vacation with his new girlfriend, finds himself reluctantly caught up in the search for the missing men. Everything points to a mysterious benefactor smuggling refugees to Germany. But as the trail hots up, a more disturbing truth begins to emerge.
With his past still refusing to stay behind him, Thad must use all his cunning and dark-web knowhow to get to the heart of a horrifying cross-border plot, which, before he knows it, threatens the life of the one person he has allowed himself to become close to.
Worldwide Webb is priced $3.99¹ and is available from all good bookshops, including:
Amazon.com :: Amazon UK :: Kobo :: Apple iBookstore :: Google Play :: Barnes & Noble
¹ Electronic edition RRP $3.99. Print edition RRP $14.99.  International prices may vary due to local taxes.